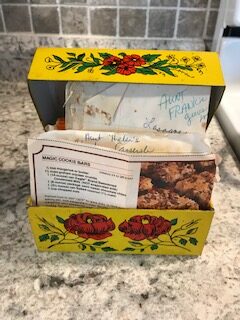 Inside an aged metal recipe box, tucked away between Aunt Frankie's lasagna and Aunt Helen's chicken pie rests a recipe for Magic Cookie Bars. As far back as I can remember, Magic Cookie Bars have been a part of my holiday baking traditions. These heavenly treats also arrived in care packages at various camps and were waiting for me like an old friend after a long week of college exams.
Most of the recipes in this box are penned in my Mom's handwriting which becomes more precious each year that passes without her.  This recipe was clipped from a magazine, long before the days of Pinterest. In case you are perplexed as to how people found recipes before the world wide web, we surfed for recipes in magazines. Legend has it that some people were driven to swipe a recipe or two from some magazines in waiting rooms when no one was looking. Now this is just what I have heard, certainly not a confession!
This holiday season I am so happy to share this recipe with you and your family as a part of The Great Quetzal Cookie Run. What is a quetzal you ask? A quetzal is a lovely bird with bold colors and is the national bird of Guatemala. As we all adjust due to COIVD 19, Unearth Hope is excited to bring you this virtual opportunity to have fun for a great cause. You and your family can do the race together any time between December 1-13. Run your best time, powerwalk, stroll, or simply sign up and just eat cookies!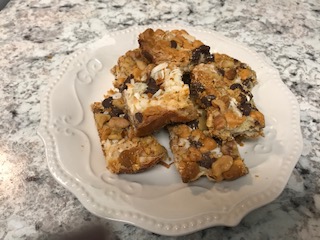 The proceeds from the race will benefit Unearth Hope as we strive to provide support to our international partners on the ground supporting COVID 19 relief in Guatemala as well as preparing to send future medical teams in the summer of 2021.
My Mom had a compassionate heart to serve and she would be so proud of the work we strive to do with women and children through Unearth Hope. She also beat the odds of being a teenage Mom who later worked hard to achieve her childhood dream of becoming a nurse. That is the exact mission we long to fulfill through our work, empowering young women to live into their God given abilities through compassionate support that includes health and education opportunities.
I hope that you and your loved ones enjoy this recipe. Merry Christmas from our home to yours!
Magic Cookie Bars
Ingredients
1 1/2 cups crushed graham cracker crumbs
1/2 cup butter
1 cup chocolate chips
1 cup butterscotch chips
1 cup sweetened flaked coconut
1/2 cup chopped walnuts
1 (14 oz) can sweetened condensed milk
Instructions
Preheat oven to 350 degrees. Spray a 9×13 inch baking pan with cooking spray and set aside. OR line your pan with parchment paper for easier removal and cutting.
Melt butter in a small saucepan. Remove from heat and stir in graham cracker crumbs until thoroughly combined. Press into the bottom of a 9×13 inch baking pan to form the crust.
Evenly sprinkle remaining ingredients one by one over the crust to form layers, beginning with the chocolate chips, followed by the butterscotch chips, coconut, and walnuts. Pour the condensed milk evenly over the top. Spread with a rubber spatula to make sure it's evenly distributed.
Bake in preheated oven for 25-30 minutes until edges are golden brown and the middle is set.
Allow to cool completely before slicing. Enjoy and prepare to bake another batch for Santa!
Nutrition Who Cares! Sign up for The Great Quetzal Cookie Run and burn off all the calories! Want to support our work without the run? No problem…click donate!