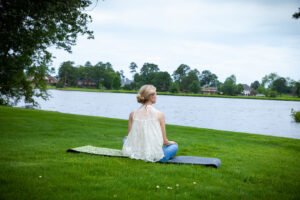 I am a trauma therapist. I never set out to do this work; this work found me. It is this sacred place where God drew all my crazy passions that seem to have no connection at all into a gift.  Being a therapist has brought me a deep sense of purpose in my life and I am continually humbled that God would use my life this way.  Conversely, this work has also left me vulnerable to personal destruction. Impacts so deep that I never wanted to do this work again.  In the end, I was left a shattered shell of my former self with nothing left to give.
Therapists, as well as many other helping fields, are at risk for secondary trauma also known as compassion fatigue. As we continue to deal with the global waves of COVID 19, I worry about the legacy of compassion fatigue. Our healthcare teams, teachers, mental health staff, non profit staff and so many more are weary, exhausted, and flat out done. Some have fled their posts already and I sadly fear many will never return to their fields.
Professional burnout is real and the price we pay personally and as a society is so often overlooked. These wounds spill out from the workplace like a volcanic explosion into our families and communities. In addition to the huge emotional and economic tolls, we lose professional mentors who have invaluable knowledge that can never be taught in a classroom.
Over the last year I have embraced so many incredible professional opportunities to share what I have learned on my grueling personal journey through compassion fatigue. Each time, I have been blown away by the response of participants to these events.
Digital or in person, this message resonates with so many in these times. The emotions are palpable. A sense of deep gratitude that someone was giving them permission to step away and truly take care of themselves, not just lip service.  Relief that they were not alone in their struggles and that someone acknowledged the brutal reality of the impacts of their work. Finally, someone saw them, recognized the pit they were in and threw a ladder down to begin the climb out. "Yep, Hank, we've got another one here, back the tow truck up!"
There is nothing exceptional about my journey to becoming as burned out as a slice of extra crispy avocado toast. Many have walked this path long before me. Sadly, many do not share their stories because admitting to professional burnout feels like we are a huge failure. After all, we signed up to a life of service over self.
We are the ones that people look to for help in a time of crisis and now we cannot hack it. Not exactly a vote of confidence for our skill set.  We have been conditioned to believe that burnout is the result of our own doing and is the result of not being able to balance life. Unfortunately, this is often reinforced by well-meaning friends and family who simply do not understand the nature of our work. Oh that I had a dollar for every person who has ever said, "It must be nice to get paid to just talk to people all day."
The reality is that this work changes you. This fact is something that I wish had been drilled into me as a young therapist. For most of us our only exposure to self-care in our training came as  a two page chapter in the back of the "Introduction to Helping" textbook. In defense of all my incredible mentors, we were just beginning to understand the impacts of compassion fatigue. The explosion of science related to stress and compassion fatigue over the last decade is phenomenal.
As a part of my healing journey, I discovered research that reveals that burnout is more than just being exhausted or sick of your job. It was reassuring to know that there are certain personalities that are at higher risk (hand raise emoji please) for burnout. The risk also increases if we do not see progress in our efforts to make a difference, after all that is what led us to this career.  Workplaces that promote self-care as a priority in place of applauding the exhausted worker with  "way to go keep working harder" have less absences and happier employees.
Maya Angelou said it best, "I did then what I knew how to do. Now that I know better, I do better." It is time to demand better for ourselves and our workplaces. It is my hope that by sharing my story others will feel permission to let down the tough exterior and open themselves up to the fact that we are all human and not machines. Burnout is not failure. It is the price of pouring our heart and soul into the work, but it doesn't have to rob you of your career or your life.
Over the next few posts I will share my personal story as well as ways to recognize and heal from burnout.  Taking a burnout assessment tool is a great first step to assess where you are in the cycle. The most recognized tool in the helping professions is the Maslach Burnout Inventory (MBI). A quick Google search will reveal several online versions that you can take right now for less than 20 bucks.
You have been taking care of everyone else, now it is time to take care of you. I look forward to sharing this journey with you. As always, may you be well, may you be loved, and may you know true peace.
Read more about Melissa C. Harrell and her work. To see blogs as they post, LIKE Resiliency Counseling and Consulting, PLLC
The purpose of this blog is to offer educational information related to mental wellness. Resiliency Counseling & Consulting, PLLC and Melissa Harrell do not offer diagnosis or treatment through this medium. If you feel that you or a family member needs to access mental health services, first contact your primary care physician for assessment and direction in your area. If you need immediate help, please contact the National Suicide Prevention Lifeline at 1-800-273-8255.