"So this is love…mmm…So this is love…so this is what makes life divine" sings Cinderella, extremely cheerfully.  The words to this song echoed through my head this week but not for the reason that you might think. While it was the week of Valentine's Day, I have to make a full confession…I am NOT a fan at all of this holiday.
No, I don't have some jaded story of a looser boyfriend who forgot to send me flowers or broke up with me on Valentine's day… and I am ridiculously blessed with a husband who treats me better than I deserve. I just have a HUGE problem with only one day dedicated to showing love to not only the people closest to me but also those that hunger for real love in our broken world.
As a marriage and family therapist, I work every day with people who are struggling to feel loved and heard. After countless clients and years of listening, I can attest that many of my client's problems are rooted in how they define love. I find that as a society we have managed to twist and make "love" into something that it was never designed to be.
Let's look at the three most common types of love that we see in our society:
EROS: This is what we call romantic love. It is that sexual passionate love that we are marketed 24/7. We are led to believe that this "on fire, got to be with this person every second", is what our romantic relationships should look like forever. This love is driven by self and what WE "need or want" in this relationship. This type of love is also not sustainable for long periods of time.
PHILIA: This is friendship or brotherly love, hence the root of  Philadelphia known as the city of brotherly love. While not driven as much by the feelings of the flesh, this relationship is still driven by mutual benefit. If one member of this relationship stops feeling like there are positives for them, it is likely this love and ultimately relationship dies out.
STORGE: This is the unique familial love, particularly between parent and child or other family members. It is the "blood is thicker than water" love. Even though this type of love may initially be based on unconditional love, it is often still rooted in that mutual benefit relationship and can develop into dysfunctional patterns.
These three loves are what we see most commonly demonstrated in our society, but there is another type of love called "AGAPE" love. This is the highest form of love and it looks to the welfare of others before self. AGAPE love means loving people when we don't want to, it means loving people we don't know, it means loving people when it's hard…it means loving people when according to our world they "don't deserve it". It means loving people when …well it just means GENUINELY LOVING PEOPLE WITH NO STRINGS ATTACHED.
I have been blessed in my lifetime to have witnessed some extraordinary AGAPE love. In the winter of 2017, I was, as my teenagers would say, "all up in my feelings". It was my last semester of graduate school (for the second time…really girl???). I had multiple papers due, mother guilt, wife guilt, and quite possibly I had on my last pair of clean underwear.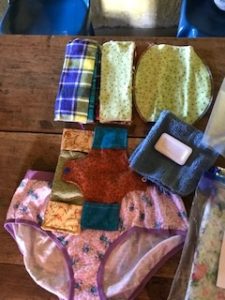 With all this swirling about, I had been invited to a small church in Snow Hill, NC to see a project called "Days for Girls". All I knew going into this was a small group of people came together twice a month to make feminine hygiene kits for a mission trip. Did I mention they meet early on Saturday mornings in the cold of winter? Oh, but yes, please, please, and I do mean please sign me up…insert sigh.
But this is the beauty of agape love. Who knew that this one act of getting up when I didn't want to, putting aside my pressing needs, and taking those first steps would be one of the most pivotal changing events of my life? As I walked through those fellowship hall doors that morning, the scent of a hot iron touching new fabric and coffee transported me back to my great grandmother's quilting room and my great aunt's sewing room, both places where I had experienced agape love as a child. Two women I adored and who I had watched live out this kind of love. It was like I was instantly enveloped in the hug of their spirits that said, "you are home".
What was going on in this small, rural, fellowship hall was incredible. Various people gathering in love to create safe, washable kits for women living over 3,000 miles away, that they would never meet, all because they knew there was a need. These were not "some people", these were true disciples of Christ. In this room, the hands of seasoned women, young women, children, farmers, and brothers worked to sew, cut and piece together these kits that would allow women to stay in school or go to their job each month as they experienced their menstrual cycle. The educational and economic impact for these girls and women who miss due to their cycles runs deep.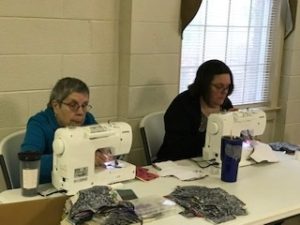 What drives this kind of commitment and love? These worker bees are motivated by AGAPE love fueled by the sobering knowledge that one in ten girls in Sub Sahara Africa, 113 million adolescent girls in India and 30 % of menstruating girls in rural Brazil will miss school this year due to lack of feminine hygiene products. To try to manage, they often use whatever they can find such as banana leaves, mattress stuffing, or even cow dung to control their flow. This leads to increased risk of infection and possible long term damage to girls and women. I invite you to visit Days for Girls International to learn more…and FYI this was founded by one woman…driven by AGAPE love.
Agape love is the highest form of love that we can evolve into and achieve as human beings.  I am convinced that the love of self and lack of agape love in this society contributes to almost 100% of our problems. Given the state of our country in anger and in division, we could all benefit from practicing a bit more agape love.  Agape love helps us to build and maintain the true psychological and social environments that sustains and enriches a society. It is this type of unconditional love that lets people know they are truly loved and safe.
For those of us who practice Christianity, agape love is the love that Christ poured out on us. While we were still sinners, Christ died for us (Romans 5:8). We as Christians are required by this gift of grace to bestow this love on others…and this will burn…but some of the most beautiful demonstrations of agape love I have ever witnessed were committed by people who do not practice Christianity or any religion for that matter.
AGAPE love is not a natural state no matter whether you subscribe to a religious practice or not. It is perfected through practice.  It is practiced in your day to day relationships with your spouse, children, and coworkers. It is practiced by reflecting back kind words when you feel you have been treated less than kind. It is taking time out of your busy life, to do something for someone who can offer you nothing in return.
I have been on the receiving and bestowing end of agape love, and I have to tell you the more you give this kind of love away… it becomes addicting. The peace and love in your heart can never compare to any other kind of love. My husband and I have been married for 21 years. Like most couples we have shared our highs and lows along this journey together. The greatest thing we have ever done to keep our love alive in our marriage has been to give our love away to others in service.
This weekend we had the chance to share our passion for Days for Girls with some of our life long friends. Between us we have 6 kids, five of them girls.  Greater than any of them getting accepted into the best colleges or being financially successful in life, our deepest prayer is that they will live their lives based on AGAPE love and service to others.
So yes, Cinderella, This AGAPE love IS what makes life so divine, but it should not be confused with the romantic happily ever love that Disney sells. Love your family…fall in love… experience all the love you can in this life… but don't stop there. Take yourself to the highest level and reach out to show love to those who can never do anything for you in return.  It will be the greatest love of your life.
As always, until next time, may you be well, may you be loved, and may you know true peace.
Read more about Melissa C. Harrell and her work.
Like Resiliency Counseling and Consulting, PLLC
The purpose of this blog is to offer educational information related to mental wellness. Resiliency Counseling & Consulting, PLLC and Melissa Harrell do not offer diagnosis or treatment through this medium. If you feel that you or a family member needs to access mental health services, first contact your primary care physician for assessment and direction in your area. If you need immediate help, please contact the National Suicide Prevention Lifeline at 1-800-273-8255.